Personalizing Your Beach Wedding Look: Bridal Headbands and Dress Choices
Beach weddings have become an increasingly popular choice for couples looking to tie the knot. With the sun, sand, and sea as the backdrop, it's easy to see why. And when it comes to beach weddings, there are few accessories that capture the spirit of the ocean quite like a starfish headband.
Beach Wedding Dresses: Flowy Bohemian or Simple and Elegant?
When it comes to beach weddings, the dress code is often more relaxed than a traditional wedding. This means that the bride has a bit more freedom to choose a dress that is comfortable and suitable for the setting. A beach wedding dress should be lightweight and easy to move in, allowing the bride to walk comfortably on the sand.
A popular choice for beach wedding dresses is a flowy, bohemian-style gown. These dresses typically feature light, airy fabrics such as chiffon or tulle and often have lace or beaded details. They're perfect for brides who want to capture the carefree, boho vibe of a beach wedding.
Another great option for beach wedding dresses is a simple, elegant sheath dress. These dresses are usually made of lightweight fabrics and have a sleek, minimalist design. They're perfect for brides who want a timeless, classic look that won't feel out of place on the beach.
Of course, the perfect beach wedding dress will depend on the bride's personal style and preferences. Some brides may prefer a more traditional wedding gown, while others may opt for a shorter dress or even a jumpsuit. The key is to choose a dress that makes the bride feel comfortable and confident on her special day.
Hairstyle-Friendly Bridal Starfish Headbands for a Perfect Beach Wedding Look
Bridal starfish headbands have become a trendy and fashionable choice for beach brides. They offer a subtle nod to the theme of the wedding and add a touch of whimsy to the bride's look. These headbands are typically made of delicate materials such as pearls, rhinestones, and, of course, starfish.
One of the best things about bridal starfish headbands is that they can be worn with a variety of hairstyles. Whether the bride chooses to wear her hair in loose waves, an elegant updo, or a sleek ponytail, a starfish headband can complement her look perfectly. It's also a great option for brides who want to keep their hair simple and natural.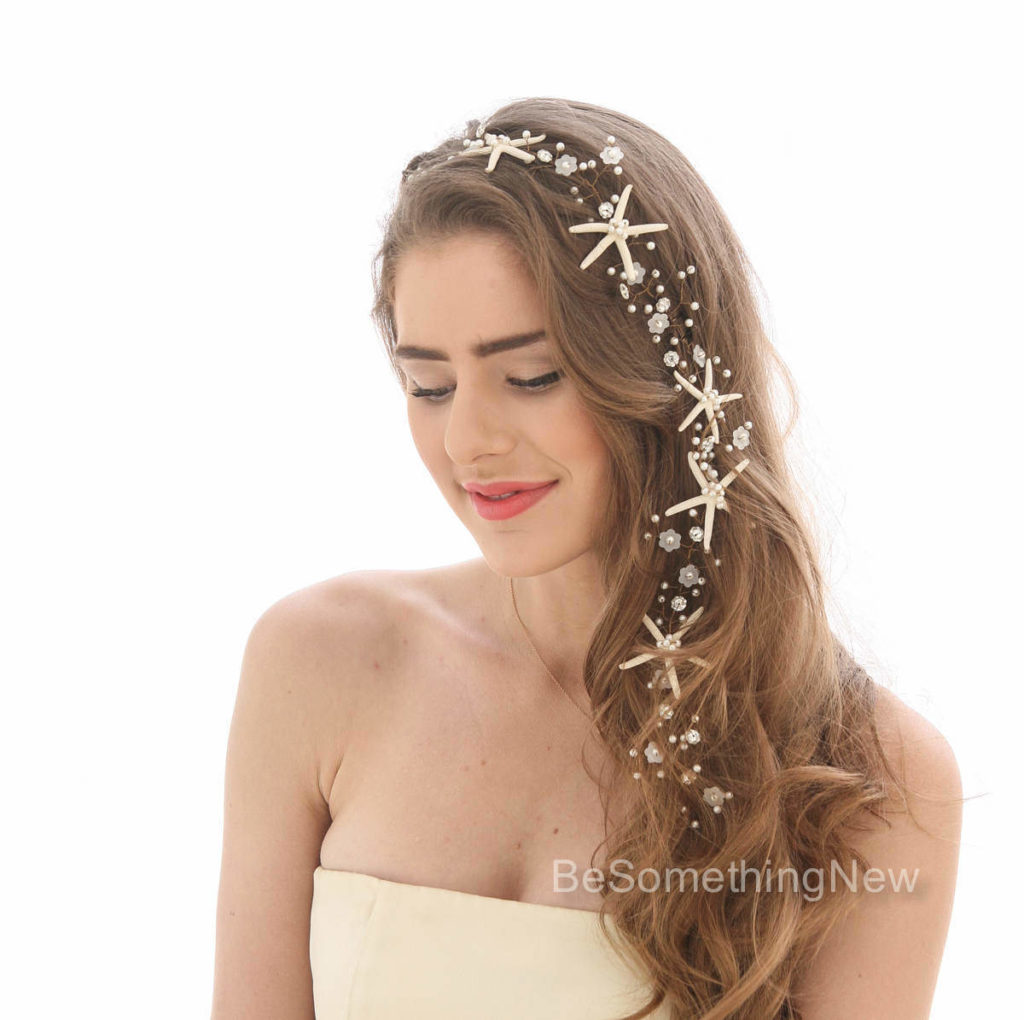 Bridal Headpiece by Be Something New
Adding Your Personal Touch to Your Beach Wedding
Beach weddings offer a unique and unforgettable setting for couples looking to get married. Bridal starfish headbands are a fun and whimsical accessory that can add a touch of ocean-inspired charm to the bride's look. When it comes to choosing a dress for a beach wedding, there are plenty of options to choose from, including flowy bohemian gowns and elegant sheath dresses. Ultimately, the key is to choose a dress that makes you happy.